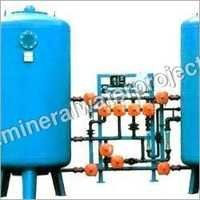 Water Softener Plant
Product Description
With the help of our expert workforce and latest machines, we are able to manufacture and supply a quality range of durable Water Softener Plant. This plant is ideal for purifying waste water. In pharmaceutical, chemical and food industry, this plant is highly utilized for treating water. We manufacture this plant under the strict guidance of expert professionals using high quality materials and components. Clients can obtain our durable Water Softener Plant in different specifications from us. We offer this plant at market leading prices.


Features:
Robust construction
Noise free operation
PLC program controls
Our water softening plants are efficient in carrying out the softening process by the application of resin. This ion exchange process is common and simplest method of removing hardness from water (removal of calcium and magnesium). By using our systems, the undesirable ions are interchanged with the more required ions. In the softening process, raw water having hardness is passed via a plot of cation resin in sodium form. The resin consumes the hardness ions Mg and Ca. In its place, the resin releases sodium ions. This procedure is also known as the service cycle during which the softening of hard water takes place in our water softening plants.
Parts/Sub-Systems of our water softener plants
Ejector Assembly
Frontal Piping Wok that has multi-port valve (conventional / butterfly) (manual / automatic)
Mild Steel / Stainless Steel / FRP Pressure Vessel
Regeneration Tank
Available from 1,000 Liters/hr. to 1,00,0000 Liters / hr.
Chemical Reaction During Softening Process:
Ca (HCO
3
)
2
+ Na
2
R = RCa + NaHCO
3
CaSO
4
+ Na
2
R = RCa + Na2SO
4
MgCl
2
+ Na
2
R = RMg + NaCl
Regeneration Process is also a carried out, whose frequency is directly related to the design and use of our water softening plant. Some of its key points are:
Regeneration means giving back it's originality to resin
Until resin is completely used, the process of raw water softening will continue
Sodium Chloride- NaCl solution is used to regenerate softener resin. NaCl is also known as common salt and is kept in regeneration tank.
NaCl solution is injected into softener via the ejector tube.
NaCl replaces Ca and Mg (Hardness) from resin
Chemical Reaction During Regeneration Process:
RCa + NaCl = RNa + CaCl2
RMg + NaCl = RNa + MgCl2
Hardness In Water And It's Hazards
For domestic and industrial purposes, hard water is a liability. Hardness of water is attributed with excess amount of Calcium (Ca) and Magnesium (Mg) ions as compared to the normal water. Temporary hardness is known as carbonate hardness, whereas permanent hardness is known as non-carbonate hardness. Ion exchange process is the simplest method to remove the hardness or in other words soft the water.
Some hazards of hardness in water are:

Has adverse reactions with detergents. For instance, it can turn a soft towel into a rough one.
Lathering of soaps and shampoos is also reduced to a great extent, making your skin and hair dry & rough, leading to hair loss.
Promotes residual deposits that can damage washing machines, heaters and other appliances; decreasing their life expectancy by 45%.
Leads to clogging of valves, faucets, pipes and fixtures.
Changes the taste of water and food. Cooking time is increased and consumption of cooking gas is increased.
Product Details:

Minimum Order Quantity : 1 Unit
Automation Grade : Automatic
Cleaning System : Automatic
Softener Tank Type : Vertical
* Terms And Conditions Apply*