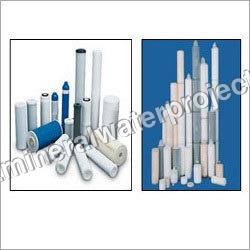 Water Filter Cartridge
Product Description
We have been able to earn a stupendous market reputation by manufacturing and supplying a great range of durable Water Filter Cartridges. These cartridges are used in water treatment plants for filtering dust and contaminants from water. To manufacture these cartridges, we use finest quality materials. Available in different sizes and specifications, our Water Filter Cartridges are highly demanded in the market. We offer these cartridges at pocket friendly prices to clients.


Features:
Light in weight
Sturdy in nature
Breakage free
Water Filter Cartridges
We deal in an outstanding range of industrial Water Filter Cartridges, which are used in water treatment plants for the filtration of water and remove dust and contaminants from it. The finest quality of materials are used in formation of these products such as resin material; polyester, cellulose basis, polypropylene, fiber glass hydrophilic, polyamide etc. These are usually used as terminal polishing filters and are available in numerous sizes and specifications. These cartridges have great chemical compatibility and an effluent flow rate, which assist in the operation and make it speedy. Some of these products differ in materials wholly and come with the stainless steel fibers, attached to the mat. Some other features of these products are mentioned below:
Light in weight, increase the surface area in comparison with conventional cartridge filters.
Robust in nature, also utilized in the applications where sterility is important.
Breakage free, complete cleaning of water without losing its beneficial essence.
Strong filters with large surface.
Applications:
Due to their high efficiency in the purification of water these water filters are widely used in homes, whole houses, hotels and industries. Having versatility in the operation these products have numerous applications, some are mentioned below:
Beverages
Chemicals
Pre RO water
Cosmetics
Compressed air
Solvents
* Terms And Conditions Apply*