Ultraviolet Water Systems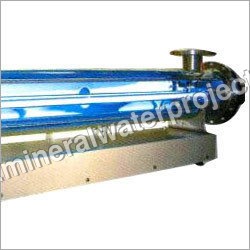 Ultraviolet Water Systems
Product Description
For our immense knowledge in this domain, we are counted amongst the most profound manufacturers and suppliers of Ultraviolet Water Systems. These systems are used in food industry, swimming pool, hospitals and laboratory. In order to comply with set industrial norms, we use optimum quality materials to manufacture these systems. We check these UV Water System on defined quality parameters to provide the best range to clients. Also, we offer these systems at reasonable prices.


Ultraviolet Water System Features:
Easy installation
Highly effective
Safe and convenient operation
Ensuring the safety of drinking water taken from borehole, well and spring water supplies, the Ultra violet water treatment systems (UV sterilizers) kill the bacterias of water. Due to accrued legislation these systems are now utilized in food and drink industries, on a regular basis.
Different micro organisms such as bacteria, cysts, viruses etc naturally exist around us. Some of them are benignant but has vulnerability to "bad" ones and in this way, these can cause terrible illness particularly in the aged and very young. There is a vast assortment of water treatment products, which are proven to amend the clarity, taste sensation, scale etc but none of these are planned to fight with bacterias. Ultra violet water treatment is one of the nonhazardous ways to clean the water as the UV rays are natural elements of sunlight. The system is free of chemicals and thus have no risks of bad taste or superabundance.
We offer a wide range of sizes so as to deal with household as well as commercial requirements. More facts can be found on the page of our ultra violet sterilization systems.
Most of our UV systems are WRAS (Water Regulations Advisory Scheme) sanctioned, certificate no. 1301081. By the drinking water inspectorate, the units have followed the standard 31 statement.
How does UV disinfection work?
When viruses, bacteria and different other micro-organisms are open to bactericidal UV light at a specific wavelength (253.7 nanometers), their generative capacities are wiped out, which means that they are deactivated and don't pose a menace to human wellness any more. Ultraviolet disinfection systems channel and water past swamped lamps release the fatal doses of UV energy, ruining the infectious agents. It is safe and highly effective. UV does not make a happening in the color, taste or odor of water. It merely distances the peril of malady grounded by microbial impurity, making the water harmless to drink or exercise commercially. Due to this organizations and businesses from hospitals to hotels have been relying on UV technology, for more than 20 years.


Benefits of a Perfect Water UV Disinfection System:
It is tested with 99.9% efficacy.
Chemical-free and Environment-friendly.
The UV lamps give high outputs.
Innovative and area saving designs.
Machine-controlled lamp substitution reminders are provided.
Safe and simple to maintain
Stabilized and energy-efficient delivery.
Reasons why you should choose a Perfect Water UV System:
It offers a unique collection of the lamps and sleeves making the maintenance uncomplicated without the obligation of additional tools.
The system also provides a timer that apprises the necessity to regenerate the lamp.
It also provides a yearly mailed reminder that indicates the need to replace your lamp.
Making the use of high-output lamps it is also capable to produce the twice of the results of conventional lamps.
Employing a design that perfects efficiency through fluid kinetics the system is highly functional in its structure.
Providing a diagnostic demonstration it also indicates that why the system may pose a alarm system.
Give a reference card with the system boundary it is the most crucial system of excellent functions and low fixing.
It also offers a ten-year warranty against manufacturers imperfections on the UV chamber, power supply, on the circuit boards and all electrical connections.
* Terms And Conditions Apply*