Sand Water Filter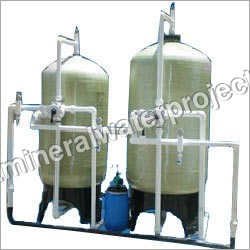 Sand Water Filter
Product Description
Backed by sharp business wisdom and profound industrial knowledge, we have emerged as a leading manufacturer and supplier of durable Sand Water Filter. This filter effectively removes the suspended substance from water. The filter is used in food and chemical industry. To manufacture this filter, our expert workforce uses optimum quality materials and components. Highly demanded in the market, this Sand Water Filter is available in different specifications. We offer this filter at cost effective price.


Sand Water Filter Features:
Maintenance free
Automatic back-washing
Programmable control
Sand filtration:
Sand filtration is very often utilized as this is a very strapping method to withdraw suspended solids existed in water. The filtration medium of these filters has multiple layers of sand with an assortment in size and particular gravity. Sand filters are available in different materials and sizes and can be operated with both hand operation or automatically (machine-controlled). The raw water pump is exercised for rendering essential running pressure in the pressure sand filters. Then the raw water is passed through sand filter and cut down the suspended solids, which are present in the raw water.

The filter will effectually remove up to 30 50 micron of the supported solids to less then 5 ppm. These filters should be washed with raw water for 20 to 30 minutes daily.


Applications for sand filtration:
Having efficiency in the filtration of water from sand particles these filters have numerous applications, which are mentioned below:
Formulation of cooling water
Waste water treatment
Presentation and production of drinking water
Swimming pools' water filtration.
Pre filtration for membrane instrumentation.
Filtration of surface or gray water.
Specifications:
These filters are the non corrosive and cost effective solutions for commercial and industrial water treatment with an optimal storage.
FRP vessels are exercised for commercial, residential and industrial applications.
Vessel is ready-made with natural fiberglass shells, which never fade or change their color. The colored shells are suggested for UV protection.
Both internal and outer parts of these products are corrosion resistant.
Have the physical properties: operating pressure min 0 bar and max. 10 bar.
Factory Test Pressure level 11 bar.
Operational Temp Min. 1C and Max. 50 C
The composites of light weights can lead to cost saving with low installation costs and effortless handling.
Top & Bottom Opening Vessels are provided.
Low pressure drops are integrated across the vessel.
Multiport valves, MOC is ABS.
Semi automatic, automatic and manual features are provided for their fluency in different modes of operation.
Posses high filtration skillfulness , standard and efficacious multigrade sand media.
Efficient turbidity, TSS separation
* Terms And Conditions Apply*