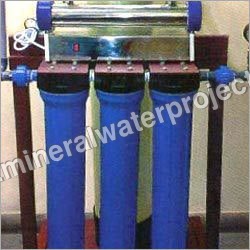 Micron Filtration System
Product Description
Nishu Enterprises is a reliable provider of water treatment plant called micron filtration system, meant for pretreatment of water before passed to RO system or waste water treatment. As the very name implies, this system filters out all microorganisms and supply bacterial free water. This highly effective, easy to install and long standing system can be used for obtaining safe drinking water, free from contaminants, suspended solids, fine particles, microorganisms and bad odor. It is designed to remove only impurities, not essential minerals. Micron filtration system works at a low operating cost and ensure water purity to a certain level. In the filtration process, liquid to be processed is passed through the special pore-sized membranes. It's head comprises a raw water inlet and a backwash drain, and it's bottom comprises backwash inlet and an outlet for treated water.


Key Points:

1) This system is available in two versions- disposable and washable.
2) Through the specially designed filter, bacteria, algae, and other microorganisms are unable to pass.
3) This is used as a pretreatment as dissolved organic matter, small viruses easily pass through the filter.
4) It is applicable in pharmaceutical processing units, mineral water plant, food & beverage processing plant, etc.