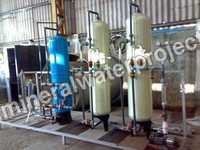 DM Water Plants
Product Description
Ever since our establishment in the year 1996, we, Nishu Enterprises have been engaged in manufacturing, supplying and exporting best grade durable DM Water Plants that are mainly used to demineralize the water and make it fit for human consumption. Demineralization is a process of removing dissolved mineral salts and other contaminants from water by using the ion exchange process. From top grade raw materials acquired from accredited vendors in the industry, we make these water purifying plants in accordance with the set industry norms and standards at our well equipped production facility. Our clients can avail these durable Demineralization Water Plants from us at nominal rates.


Additional information:
1) These DM Water Plants are pre assembled, compact in structure and easy to install.
2) The offered water plants require minimal maintenance.
3) Have sampling points for monitoring quality of the water and pressure gauges for calculating pressure.
4) These have resin media to provide good filtered water quality.
5) These have multi port control valves or individual valves for easy operation and also electrical controls with essential interlocks.


Specifications of Demineralization Water Plants:
1) These plants come in factory tested, pre assembled and compact built that ensure ease of installation.
2) These are simple to operate and maintain.
3) Integrated with robust FRP pressure vessels, PVC piping & valves.
4) Installation requires only water, electrical and drain supply that can done in a day.
5) Integrated with electrical controls that have all the interlocks.
6) These plants come with an option of multi port control or individual valves for simplifying the operation.
7) Comprises of well packed - resin media in order to produce 100% pure and filtered water.
8) One can get the solution tank of any volume with this plant.
9) We also provide test kit for water quality check.
10) In the plants, there are provided sampling points for quality monitoring and conductivity meter for continuous monitoring of water quality.
11) Pressure gauges are delivered with the plant.


Detailed Info:
The process of separating mineral salts from the water by using the ion exchange activity is known as Demineralisation. It is possible to make the use of Demineralisation with most of the natural water origins, it also assists in producing the water of higher quality in comparison with formulaic distillation.

We provide a specific range of custom-built Demineralization Water Plants for the industrial operation of water applications. These come with intrinsic designs so as to preserve water and save the operating costs. The DM Water Plants are accessible in various sizes and substantial. Manually directed or fully machine-controlled these are easy to install and are gettable in modular models or customized built variants for the specific needs and demands.


Operating Principle:
The regular Demineralization Water Plants consist of FRP (fiber-reinforced polymer)/MS rubber marked pressure vessels, which are attached in the series along with its interior fittings. The first unit has high capacity with hefty acidic ion exchange resin, which changes positive ions of salt and regenerates them with hydrogen particles to sort several acids, which are engrossed in next vessel by strong basal ion exchange resin.

Further the highly pure water can be attained by mixed bed deionisers, which are premeditated to make high purity treated water. They can be utilized as polishing units after two bed DM Plants so as to receive high purity water. Mixed bed deionisers are individual column units, occupied with strong acidic ion and strong primary anion exchange resins amalgamated together.


De-gasifiers:
Degassifier unit is the component of a DM Water Plant in which, we provide a full range of degassers to match the customized/packaged Demineralisation Plants. When Degassers are set up downstream of the ion unit by removing the carbon dioxide, these also reduce the load on the ion unit. It leads to cost savings by way of reduced chemical intake. Standard units consist of a tower in FRP construction/mild steel rubber border along with a blower and conveyance pump constructed with stainless steel. Extra blowers and pumps are offered as alternatives.


Mixed Bed De-mineralisers:
The Mixed bed DE-mineralisers are exercised on the downstream of the DM part so as to attain the high purity planes in the activated water. We confabulate mixed bed DE-mineralisers in custom-made and in packaged options. These mixed bed units incorporate a single vessel with a concoction of cation and ion resins. Offered with absolute work and regeneration piping these also feature chemical tanks for resurgence purpose and self adjunct skid base for efficient operation.


Condensate Polishing:
A condensate polisher is an instrument, which is used to filter out the water that is condensed from the steam as relation of the steam cycle. Our fantastic condensate polishing ion group action resins surpass in acquiring corrosion creations in the condensate stream. This polishing usually regards ion exchange technology for the dismissal of trace liquified minerals and suspended substance. It is by and large used as the part of a power plant's condensation and precludes immature chemical failure and accumulation within the power cycle, which would have effected in failure of unit ratio and mechanical harm to key yielding equipment.


Fully Automatic Rapid Flow Two Bed DM Water Plants:
We are offering skid mounted, PLC contained Two Bed Fully Automatic DM Plants integrating state-of-the-art counter flowing ion exchange technology. Formerly accessible only in large, these purpose-designed plants have the functional cycle of fast-regeneration. The packaged units is powered by volume output, which is pre-planned into the PC reported to the kind of feed water. The ion exchange resins are never fully fagged and ensure optimal deionised water production in all times.

Decreasing the necessity for both secondary plant and the retention of large volumes of water the regeneration of the cation and ion beds is concurrent. The outflowing streams are mostly self-neutralizing and reduce waste disposal costs and environmental contact.


DM Water:
We also provide DM water in large quantities for the water needs in production procedure. Providing high quality DM water to the industry, we possess highly qualified staffs who interpret the high quality water inevitably. For bulk amount of DM water, we set up the Two Bed DM Plants/ Three Bed DM Plants at the client site.


Different choices in Demineralization Water Plants we offer are:
1) Two Bed DM Water Plants – mild steel rubber seamed
2) Two bed DM Water Plants – FRP
3) Mixed Bed Demineralisers – MSRL( mil steel rubber lined)
4) Mixed Bed Demineralisers – FRP
5) Degasification Systems – FRP & MSRL( mild steel rubber lined)
6) Rapid Flow Two Bed DM Plants
7) Fully Automatic Demineralised Water Plants - mild steel rubber lined
8) Fully Automatic Rapid Flow Two Bed DM Plants

Trade Information
Africa, Middle East, Western Europe, Eastern Europe, South America, North America, Central America, Australia, Asia

All India