Water Bottle Washing Machine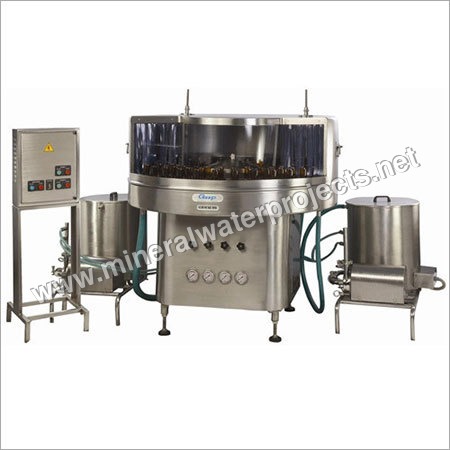 Water Bottle Washing Machine
Product Description
We have set up a state of the art manufacturing plant, which enables us to manufacture and supply a quality approved Water Bottle Washing Machine. this machine is manufactured in compliance with latest technology using high quality materials and components. In beverage industry, this machine is used for washing and filling bottles with liquid. We make this Water Bottle Washing Machine available for clients in different specifications as per their requirements.


Water Bottle Washing Machine Features:
High working efficiency
Vibration free operation
Longer operational life
Working Process:
The automatic water bottle washing machine can wash 36 soft drink bottles per minute, having capacity 200ml/250ml/300ml. There are a number of wash stages in this stainless steel constructed machine. It is suitable for regular and vigorous operation, which can be done even by a layman. There are various lightweight trays that eliminates the requirement of keeping bottles one by one. These trays are directly upturned onto the crates that have the bottles. After this, the removal of plastic crates takes place since the bottles are seated on PVC cups. Thereafter, trays are forced into machine at predefined time-frame via a hydraulic system.
For each wash, there is a separate compartment.
1st section comprises Hot Water Caustic Soda Wash.
2nd, 3rd and 4th sections comprises Plain Water Wash.
As per specific requirements, more sections can be added.

For each section, there is a separate mono-block pump set that pumps the water at very high speed. Rinser Nozzles are present above and below the bottles. In every section, 24 bottles kept in two trays can be washed simultaneously. In every section, rinsing of bottles is done twice, which means that dirtiest bottles are also comprehensively cleaned. Rinsed water falls in SS tank, whose recycling is done by pump.

SS mesh is retained on top of tanks for collecting the dust and dirt. These meshes are easily removable and cleanable. Filling and draining of water is very easy from all the sections. The machine also has a panel board with switches that allows quick management of pumps, heaters, and setting of specific water temperature. Every section has glass windows that are rubber insulated, allowing to see the entire cleaning process.

* Terms And Conditions Apply*
Trade Information
Depends on order

1 Months