Commercial Reverse Osmosis Plant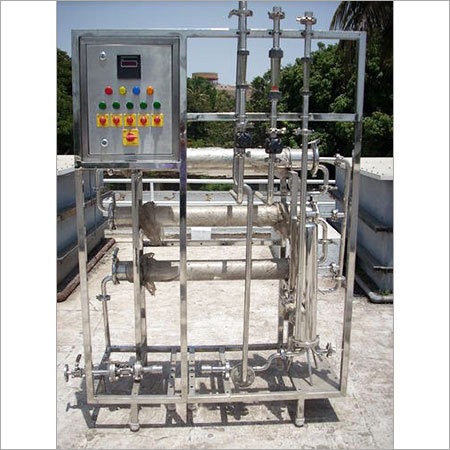 Commercial Reverse Osmosis Plant
Product Description
Leveraging on our immense understanding and skills in this domain, we are reckoned as a valuable manufacturer and supplier of durable Commercial Reverse Osmosis Plant. This system is used to purify saline and impure water in commercial establishments. Our diligent workforce uses high quality materials and components to manufacture this system. To provide a defect free range, we check this durable Commercial RO Plant on varied functioning parameters. We offer this system at pocket friendly price.


Commercial Reverse Osmosis Plant Features:
Maintenance free
Rugged construction
PLC control system
Our industrial commercial reverse osmosis plant is based on the filtration method (membrane-technology), which removes a host of large ions and molecules via the application of pressure on the solution. This is done during the stage when the solution is on single side of a selective membrane. Hence, the pressurized side contains the solute whereas pure solvent passes through the other side. With our RO plant, salts and other impurities can be removed making the water pure with good taste.
Principle of Osmosis:
When a semi-permeable membrane is used for separating liquids having different concentrations, the fluid achieves chemical potential equilibrium by moving between concentrations i.e., low to high solute. This minimizes the concentration differences of solutions. On mixing two different concentrated solution, the overall quantity of solutes gets distributed equally. The solutions are put in separate compartments, where semi-permeable membrane divides the solutions. This membrane permits movement of solutes only, hence it restricts the solutions being mixed.

In the process of reverse osmosis, solvent is forced by pessure in excess of that of osmotic, to move from high solute concentration to a lower one. The membranes used for durable RO plant have a polymer matrix, wherein it has a dense layer and in this layer maximum separation takes place.


Specification:
Constructed with robust mild steel powder coated frame, the plant is compact in built
Produces crystal clear water that is pleasant in taste
Excellent efficiency with removal of up to 95% of total dissolved solids (TDS) or salinity
Offered in varied capacities, ranging from 400l/h to 3000 l/h
Complete protection to high pressure pump and membranes owing to its built in safety features
Options of varied models are available for handling waters with TDS levels between 1500 to 2500 ppm
Fully assembled and stringently tested before dispatch for assuring high end efficiency
On-line devices are provided with the plant in order to monitor the treated water quality
Advantage:
The removal process of dissolved solids is highly economical and efficient
Occupies less floor space for installation, the plant is easy to install
Capable of withstanding fluctuations in feed water total dissolved solids
The spares and servicing of this plant is readily available
Delivered in short time period
Applications:
In restaurants, hotels, hospitals and residences for hygienic and healthy drinking water
Mineral water plants
Dialysis units of hospitals
For reducing regeneration chemicals, it is the best alternative to demineralization plants
Working

Pre-Treatment
Clarification of water
Sand filtration
Water softening for reducing the hardness
Water is passed through activated carbon filters
Final removal of suspended particles using cartridge filters
Post-Treatment
Oznonation
Ultra-violet
Chlorination Systems
Technical Specifications:
Voltage: 5 HP
Duty Cycle: 12 h
Production Capacity: 100 LPH (Liter per hour) to 100 M3 per hour
Output TDS: 400 TDS to 45,000 TDS
Membrane: 4 No 4040
Dimensions: 4 x 2 x 4 (l x b x h)
Inlet Water Pressure: 7 Kg to 14 Kg
Filter Cartridge: 3 No 20 each
Booster Pump: Multi Stag
* Terms And Conditions Apply*